In the previous post I looked at how to add a very simple WebApi 2.2 REST service and demonstrated GET method using VS2013 and in particular VB.net (as the years go by VB.net examples are becoming rarer; it seems everyone is moving to C# and whilst I can program in C# I prefer VB.net).
In this post I wanted to know how to enable POST requests from a simple ASP.net webform but it appeared that whilst it was easy to consume simple datatypes with WebAPI 2.2 POST, it appears as though you can't map POST form variables to simple parameters of a Web API method.  After some digging I found one way of doing it.. by encoding/decoding the POST data on the fly within the HttpPost method in the Web API method.  Whilst this is of course workable it looked to me that there must be a better solution at which point I came across Rick Strahl's post "Passing multiple simple POST Values to ASP.NET Web API" which uses the clever method of extending WebApi by creating custom Parameter Binding.  This uses a simple class and a Global.asax hookup.
After reading through all of the comments I also noted that RoyiNamir had made some improvements to Rick Strahl's code so I've converted his resultant C# class to VB.net and will explain how to add that to the WebAPI/Webforms project:
I'm going to add this to the basic "Cars" API that we already created in Part 1, so please refer to that first.
1. Add a New Class for the Custom Parameter Binding
I've put this in /App_Code/CC/Net/WebApi/SimplePostModelBinding.vb but feel free to put it elsewhere.
This is the code for the SimplePostModelBinding.vb
Important Step: Make sure this class is set to auto compile….
Right Click is and Choose Properties then Set Build Action to Compile:

2. Hook the Parameter Binding Rules on App_Start
Add a line to /Global.asax
This is the code for the root Global.asax
We've added "GlobalConfiguration.Configuration.ParameterBindingRules.Insert(0, AddressOf CC.Net.WebApi.SimplePostVariableParameterBinding.HookupParameterBinding)"
3. Add a simple Html Form
Add a simple Html form /test/default.htm
This is the code for the root default.htm
Cars
4. Add the POST method into the CarsController
Add the following to /Controllers/CarsController.vb
This is the code for the root CarsController.vb
The full /Controllers/CarsController.vb Class should now look like this…
5. Testing
Run the application and navigate to /test/
Enter some values into the webform and submit it: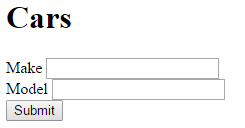 You should see some output like this:

6. Results
So what we see happening here is form values posted to WebAPI and automatically being mapped to Parameters of Post method within the API. Clever.